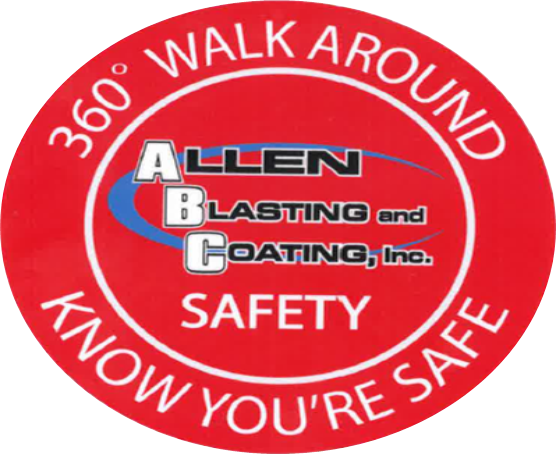 Allen Blasting and Coating has developed and executed a safety and health program which protects our employees, project owner employees and the public at large.

Our Safety program has been recognized as "best practices" by our clients and has routinely scored over 95% in annual program audits.
We have actively participated with our clients as they prepare for OSHA VPP Star certification and recertification for their individual sites. Our safety program is also a major component of our QP1 Quality Contractor accreditation by the SSPC.

One of the reasons for our success is because we hold Safety as one of our core business values. Safety is a core value for three very important reasons. In order of importance they are:
Culture
We believe that we have a moral obligation to take care of the health and welfare of our employees while they are at work so that they may enjoy their families and the fruits of their labor after hours.

We have invested a substantial amount of resources in training, tools and equipment to ensure our employees can go home at the end of each shift.
Vision
Our Safety Programs and performance keep us pre-qualified with individual clients and with national third party contractor qualification services such as Gatefeed, ISNetworld and Safety Management Inc (SMI).

By investing in accident prevention up front, we are able to minimize expenses such as workers' compensation and disruption to our workforce.
Compliance
We use OSHA and their regulations as tools to help us achieve our safety objectives. We view OSHA as a partner in our safety program and do not fear having them on our sites.

We believe by having a safety program that takes care of our people first and that maximizes our profit second, compliance comes with little or no extra effort.
EMR 2021: 0.75
T.R.I.R. 2021: 0.00
T.R.I.R. Three Year Average (2019-2021): 0.50